Here is it Thursday afternoon and I am finally sitting down to do some crafty computer things.  Play, if you will.  I've been busy playing with photos, playing with craftiness, playing with organizing, playing with chores…it's all play if you look at it right!  I'm adjusting my sails and I have a feeling we'll soon be back on the smooth waters that a summer routine provides.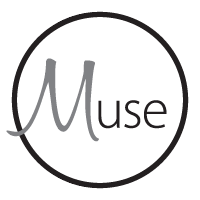 I decided to play along with this week's Muse Challenge.  I created a card, inspired by the colors, subtly stamped pattern & leaves and the little circular embellishments.  Of course, I had to go with a clean and simple design!
Stamps:  Verve
Paper:  SU cardstock (Pool Party)
Ink:  SU (Pool Party, Cherry Cobbler)
Accessories:  sequins, SU marker (Cherry Cobbler)
The grid pattern was stamped first and the single leaf second.  I inked up the sentiment in Pool Party ink and then used a Cherry Cobbler colored marker to add a little contrasting color to it before stamping it on the card base.  I added three tiny sequins for embellishments.  A one layer CAS card for a day of fun in the sun!
Here is the inspirational card provided by Therese Calvird:
It's pizza at the park tonight since Pizza Hut has 1-topping larges on sale this week for $5.55!  You really can't beat that for a quick and easy supper on a summer weekday!  No, not the healthiest, but balanced out with healthier food for other meals!  We're back in smoothie mode around here!
Enjoy your evening!