It's time for a new cue word challenge over at CASology today!  How about a little caffeine to get your day going?!  I know I don't mind!  I never used to care for coffee, but then I had kids.  End of story.
Here is what I came up with for this week's challenge:
Precious Remembrance is sponsoring us this week and they have the perfect set for the Java challenge!  It's called Coffee Love and guess what?!  They are giving the set to this week's winner, so you are going to want to play along for your chance to win!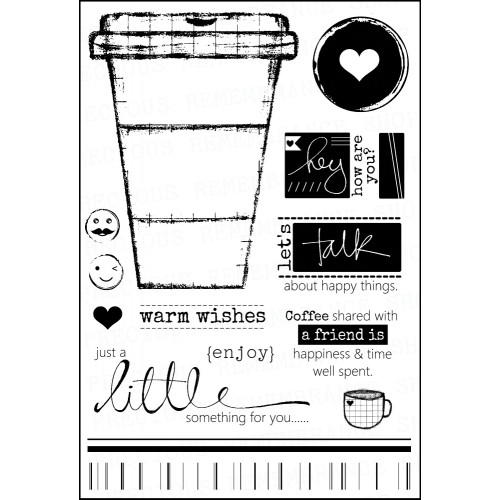 For this design, I decided to tilt both the main image and the sentiment a bit to create a little interest.  I also added a little dimension by popping up the coffee cup after adding a paper pieced lid (also popped up).  The lid is actually pieced in shimmery white cardstock to give it the look of the typical plastic lids on the "to go" cups at coffee shops, but it doesn't show up very well in this photo.
You'll want to visit the rest of the design team member and guest designer blogs to see what they've done with this challenge!
Then, be sure and link up your own JAVA creation on the challenge blog by Monday at NOON (CDT) for you chance to win!
Today is the first day of school for DS1 & DS2.  Yesterday, we spent a good portion of the day getting last minute school things done and attending orientations for the new school year.  Today, the noise level inside the house is, oh, a good 75% lower.  I'll admit it is quite nice, but I still miss them!  We'll be initiating DS3 into the world of school tomorrow.  I'm curious to see how he does.  He's acted pretty confident so far, but I know when it comes to that first day, little ones can get a little nervous! 
Java good day!