It's Tuesday and time for a brand new cue word over at CASology and this one happens to be the last one for 2017!  A kindness theme seemed to go along with the transition from one year to another, so we're filling the gallery with it and keeping the challenge open for TWO weeks to get us through the holiday season!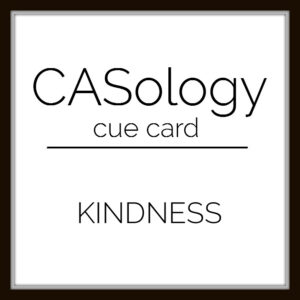 I went with a thank you card design because when I think of kindness it involves generosity, not just with material things, but with the giving of smiles, a kind word or simply stepping in where needed.  We're all human and we can all use a little kindness in our lives as well as give a little of it to others!
I stamped a Hampton Arts image (a two-step stamp set), using Stampin' Up's Crushed Curry yellow ink as the focal color.  The sentiment from STAMPlorations was then stamped in black ink and the design was complete!  How's that for a quick and easy one-layer thank you?!  My favorite kind!
I hope you'll join us in sharing a little kindness as we close out the year!  Let's see if we can take a little time and show each other a little kindness by not just visiting each other's blogs and other social media feeds, but actually stopping to leave a comment of encouragement for that creative journey we're all on!
Don't forget to link up your own kindness creation on the CASology blog by Monday, January 1, at NOON (CST) for your chance to win the prize from STAMPlorations, our sponsor!
Have a terrific Tuesday!