I want to say thank you to everyone who left comments here and on the CASology blog during last week's big 200th challenge!  The support that has been shown over the last few years means so much and I still find it wonderfully amazing how CASology has grown and flourished!  I want to give the credit to the design team members (past and present), our wonderful sponsors and our fantastic community of CAS-minded crafters!  CASology is what it is today because of you!!!  Here's to the next 200 clean & simple challenges!
The winner of my blog candy is Daria Z!  Please email me your mailing address at gimmeink@gmail.com and I'll get your prize in the mail!!!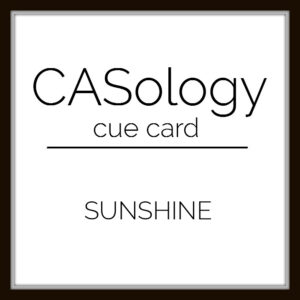 Today, we're looking for a little sunshine over at CASology.  Not because we're down in the dumps or experiencing gloomy weather, but because we all like a dose of the stuff as often as possible!  Over the years, I've liked the thought of creating my own sunshine when things around me aren't so bright.  Granted, I am human and it doesn't work 100% of the time…but I try.  This week, we have a brand new sponsor, Rubber Dance Stamps, and I used some of their wonderful stamps for my CAS design.  I am in love with this sentiment!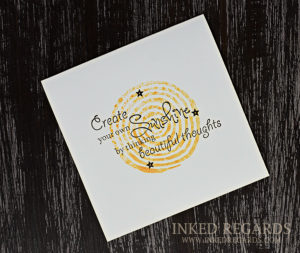 I used Heidi Swapp Color Shine spritzes to ink up the fun spiral circle from the Round in Circles set, stamping it first onto the card base.  I then stamped the lovely sentiment from the Think Again stamp set on top of the main image to preserve white space.  There is a subtle sparkle to the spiral sun and I tried to get a better photo to show you…

…but alas, it's still not exactly noticeable in the photo.  Rest assured, the recipient of this card will see it clearly!
I hope you'll take some time to visit the blogs of our sponsor, the design team and guest designer this week, leaving some blog love!  Then, don't forget to link up your own SUNSHINE creation on the CASology blog for your chance to win the prize from Rubber Dance Stamps!