It's Tuesday and time for a brand new cue word over at CASology!  With Valentine's Day coming up so soon, we thought we'd use a fitting word!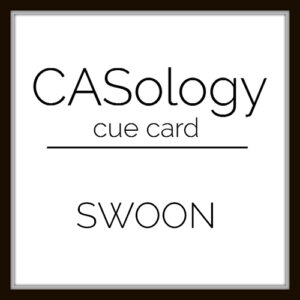 Such a fun one, don't you think?!
I used some A Muse Studio goodies to create this clean & simple design!  Three simple heart images were stamped in pink ink on white cardstock and then cut out with a coordinating heart die.  The main panel was die cut using a stitched rectangle die and then the simple sentiment was stamped in black ink.  The trio of hearts was popped up above the sentiment with foam adhesive and then three clear sequins were added as subtle embellishments.  The finished main panel was then popped up with additional foam adhesive directly on the card base.
It's hard to believe Valentine's Day is so close now!  I'm a bit disappointed with the lack of school excitement for the holiday these days.  When I was a little girl, Valentine's Day was one of the fun highlights of school.  We used to bring in old shoe boxes and decorate them to our heart's content as we anticipated receiving little valentines from our friends and special little treats and trinkets.  Now the kids are lucky if they do anything at all.  Sigh.  Things change.  I try to at least send a little something to teachers, grandparents, young cousins and close friends.  It's the least I can do!  *wink*
This week, two more new design team members as well as a guest designer are joining us in providing creative inspiration, so please join us in giving them a happy hello on their personal blogs, if you have a little time!

Melissa Chipperfield (You are here.)
Have a terrific Tuesday!