It's Tuesday and time for a brand new cue word over at CASology!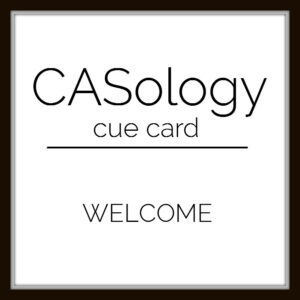 I made a super simple design this week, showing you the power of white space in CAS design!
I hope you'll stop by and leave the rest of the design team and this week's guest designer a little blog love this week!  They create such awesome inspiration each week for the CASology challenges!

Then, don't forget to link up your own clean and simple creation on the challenge blog by Monday at NOON (CST) to be eligible to win the prize from Cindy B Designs, our sponsor!
Days are getting shorter and it's feeling like a challenge to fit everything into daylight hours.  Thankfully, the weather has been kind to us, but it's time to start rounding up hats & mittens and trying on snow boots to be sure everyone has things that still fit!  Won't be long now.
In other news, you may have noticed this website is undergoing some exciting changes, so please be patient and watch for more new things appearing over the days ahead!  More details to come.
Have a terrific Tuesday!
Save
Save
Save
Save
Save
Save
Save