It's Tuesday and time for a brand new cue word over at CASology!  This week, we're either starving ourselves or traveling at high speeds.  You get to choose!  Kind of like those "would you rather…" questions the kids keep asking me these days!  With a beach visit on the agenda this summer, I chose a diet theme.  Sometimes CAS design feels like card making on a diet, doesn't it?  You just know you could add a little more, but know in the end you'll be happier with less.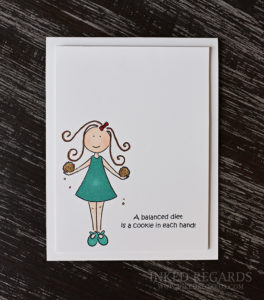 This little gal is from the (sadly) no longer existent Elzybells.  Oh, how I loved those stamps!  I have my own little stash of them hidden away and don't plan on parting with them anytime soon.  Kind of like chocolate, if you know what I mean?!
I colored the main image with Copic markers and then added a touch of clear Wink of Stella brush marker to the cookies.  I popped up the main panel with foam dots to give the card a little dimension.
Be sure and visit the blogs of the design team as well as our guest designer this week!  They work so hard each week to provide CAS inspiration!

Then, don't forget to link up your own FAST creation on the challenge blog by Monday at NOON (CDT)!
Have a terrific Tuesday!