With a day of gray skies overhead and drizzly precipitation falling on everything outdoors, I found my craft room calling!  I remembered there was a fantastic contest going on over at My Favorite Things and challenged myself to join in before it closes tonight!  I might just make it in time!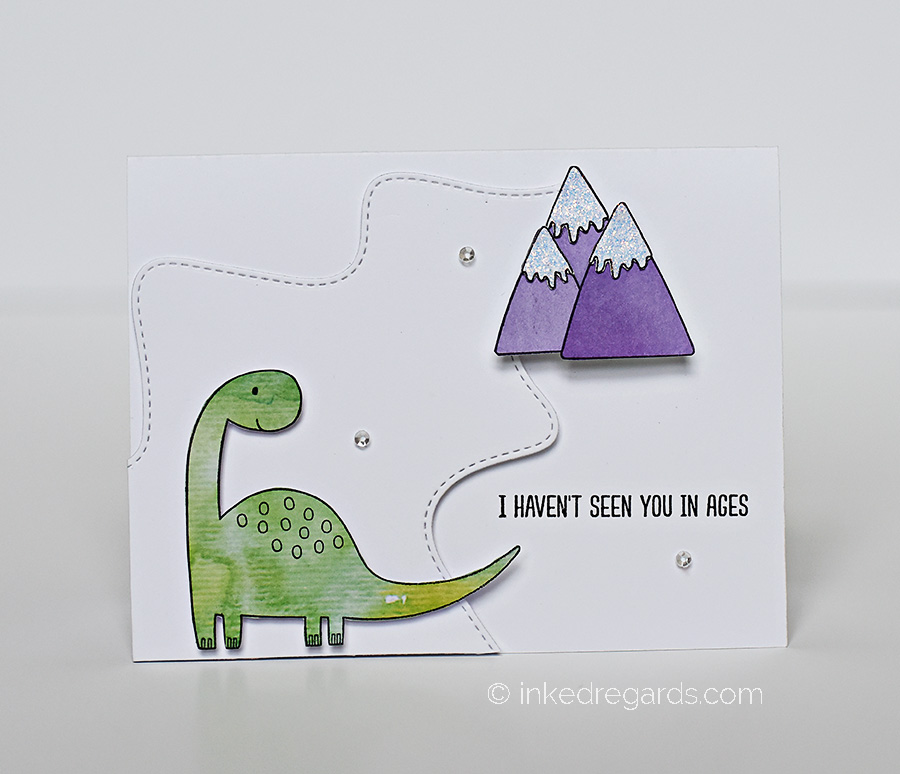 I inked up the Prehistoric Fun set and dug out the Die-Namics Stitched Mountain Range dies to create this design.  I have a few watercolor designer papers sitting around and used them to paper piece both the dinosaur and the mountains.  I used the mountain range dies a little unconventionally, creating a popped up, white-on-white background instead of a mountain range.  The sentiment was stamped and then three small, clear sequins were added as embellishments.  The snow caps on the mountains were given some fun sparkle using Stickles.
I had so much fun creating this little scene!  It was just what the doctor ordered today!  DS1 ended up needing two baby teeth extracted, so that was today's unforeseen excitement.  He's doing fine!  He got Panera mac-n-cheese and some extra hours at home today as a bonus.  I discovered I had a pastry reward waiting for me while we were at Panera, so that was a nice surprise at the end of it all!
Only a few minutes left to join in the fun!  Better get this linked up and then start crossing my fingers and toes!
I hope you've had a wonderful Thursday!
Save
Save
Save