I need inspiration when it comes to scrapbooking.  I think once or twice a year I get serious about the whole scrapbooking process and really crank out some pages, but the rest of the year my scrapping days are easily counted on one hand.  Two if I'm lucky.  I want to change that this year.  I love the scrapbooking process:   the creativity, the reliving of memories, the nitty gritty details that go down on paper.  I always fall back on the ole, "I'm so busy!  I've got so many other responsibilities to juggle!" excuse.  Really, that's all it is…an excuse.  It's more a matter of managing myself, not my time.  I can find the time.  That much is obvious to me.  Changing my ole habits is another story.
This week, I discovered some scrapbooking inspiration that I am absolutely excited about!  Something that I can definitely see myself following along with!  I've started a creativity binder for my craft projects and my plan is going into action.  Today.
Here's the montly inspirational prompt site that I'm going to be following: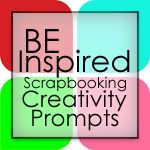 For planning my projects, I found a printable worksheet here!