We're having a Halloween treat inspiration blog hop at
Precious Remembrance Shop
today!  To make things extra fun, we're making Halloween treat boxes, bags or baskets using the newest stamp set,
Beware
!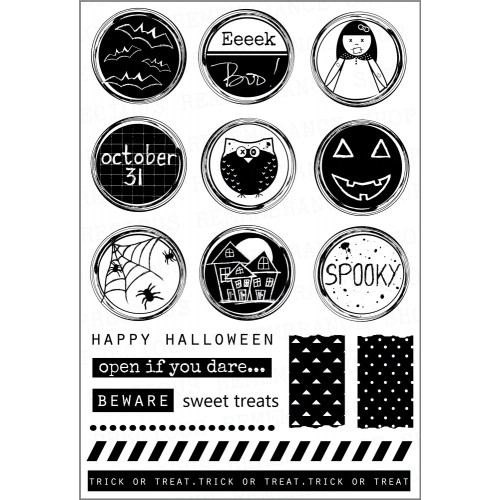 I couldn't resist making a cute little box.  It started out as just a black box, but by the time I was done, it ended up looking like this (I just couldn't help myself!)…
The big "BOO" is chipboard letters I found while digging in my endless stash of long forgotten crafty things.  What a find, huh?!  I sprayed down the box itself with purple and green Heidi Swapp Color Shine sprays, a current favorite of mine.  I love how it brought out the texture of the cardstock even more!  I used the "trick or treat" border stamp and the "October 31" circle to create the message on the lower portion of the box.  The polka dot ribbon was folded and stapled to the circle using a green staple and the combination was popped up with a foam dot.  The boys currently have a stash of varying sizes of googly eyes and I had to use the biggest ones to add a little character to the box!
For the inside, I used a chevron treat sack from a pack that's been patiently waiting to be used for quite a while now.
I attached two more cute circle images to the bag so that when the recipient pulls it out of the box, they get an extra little dose of Halloween!  The green hair was created using what I call my "grass scissors."  Hopefully you know what I'm talking about because I really do not know their official name!  I attached the hair to the back of the bag with some double sided tape and stamped the "open if you dare" border sentiment on the folded over flap.  The boys and I plan to use this little treat box for a "You've Been Boo-ed" type of greeting this week!  So fun!
Want to see even more Halloween treat inspiration?!  Be sure and visit the rest of the design team member blogs!  If you still have Halloween gifts to make, you'll find some great ideas to help you out!
Melissa Chipperfield – you're here!
Enjoy your day!